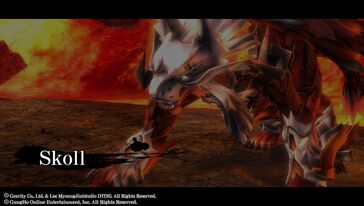 Write the first paragraph of your page here.
Destructible Parts
Edit
Chest
Waist
Forepaws
Hind Paws
Drops Items 
Edit
Flamewolf Armor
Flamewolf's Breastplate
Solar Eclipse Fang
Flamewolf's Tail
Flamewolf Wing
Scorching Loincloth
Ever Embers
you refer to the table below on the drop rates of the items corresponding to the No. in the Drops items' list.
| Drops Items | 1 | 2 | 3 | 4 | 5 | 6 | 7 |
| --- | --- | --- | --- | --- | --- | --- | --- |
| Chp 1 - 3 | does not appear | does not appear | does not appear | does not appear | does not appear | does not appear | does not appear |
| Chp 4 - 6 | sometimes drops | sometimes drops | sometimes drops | often drops | sometimes drops | sometimes drops | does not drop  |
| Chp 7 - 9 | occasionally drops | sometimes drops | sometimes drops | sometimes drops | sometimes drops | sometimes drops | occasionally drops |